Feltmakers Ireland 2014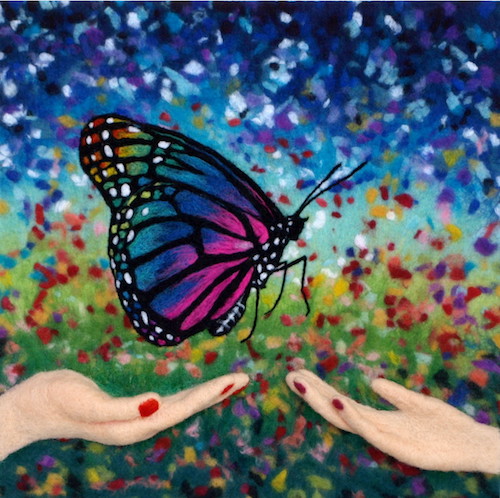 The Butterfly
This exhibition was held in Farmleigh House,in the Phoenix Park.
They say that the flap of a butterflies wings can give rise to cataclysmic events. Yet, they are the lightest of touches, like the ephemeral connections that join all of us.
Their beautiful colours and patterns are a challenge to recreate in artistic media, that will outlast the butterflies brief life span.
This is a medium size piece (400 x 400 mm), made by wet felting the background and needle felting the butterfly for detail. The hands are a 3 dimensional relief and dry needle felted.
An Irish Blessing
May the wings of the butterfly kiss the sun.
And find your shoulder to light on.
To bring you luck, happiness and riches.
Today, tomorrow and beyond.