Craft Council of Ireland
Seascapes Competition 2011

In 2011, the Craft Council of Ireland invited submissions for an exhibition to be held at the Knitting and Stitches Show in November. In keeping with the theme of the show the pieces were to be textile based and the inspiration was to be seascapes.
I have three cavalier king charles spaniels, whom I walk on Sutton Beach, near Dublin, each day. This called to mind the classic elements of earth, water and air, which I interpreted as sand, sea and sky.
The finished piece is about two metres high and five hundred millimetres wide. The wool fibres are nuno felted onto a silk backing and that in turn is mounted on a machine felt base to give it support.
The Seascapes piece was sold after the RDS Knitting and Stitches Show.
There were subsequent exhibitions in Cahir, Sligo and Tallaght and I made a new piece for these, where the sea is slightly more stormy.
The following are some details from the original piece.
---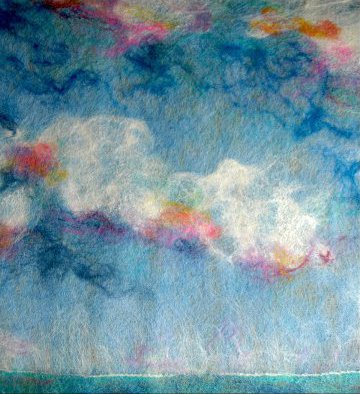 Sky Detail
The challenging part of this was determining colours for the clouds that were both interesting and believable. Many times we see colours in the sky, particularly near dusk, which are fantastic and if seen on a picture would be regarded as artistic licence.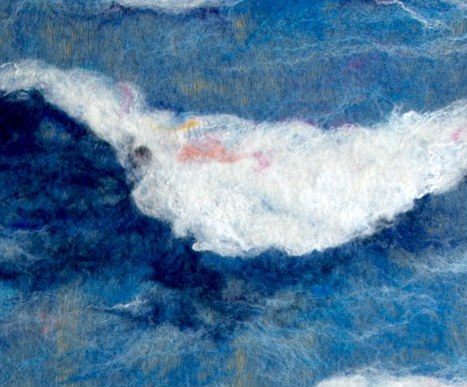 Waves, the Dramatic Element
The Waves crashing onto the shore are the power house of the beach. They animate the scene and provide the soothing soundtrack.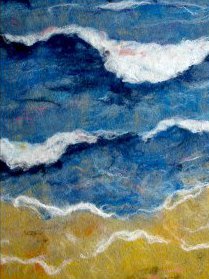 Waves Meeting the Shore
The subject of this tableau is a moving scene, the clouds are crossing the sky and the waves are washing up on the shore.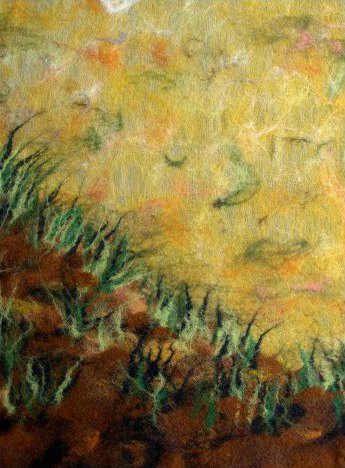 Sand and Grass, the Link to the Land
The piece is about transition, intially from the sky to the sea, then the waves to the sand. The final transition is from the sand to the grass, initially the hardy beach grasses, then further metamorphising to the grass of fields and lawns.